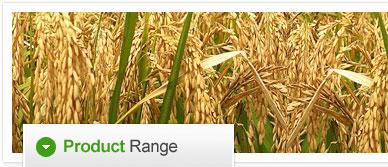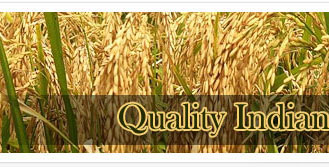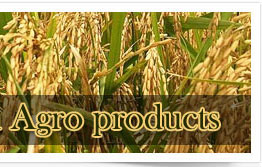 Rice
Rice is the most widely consumed staple food for world's human population. After Maize (Corn), it is the grain which covers second highest worldwide production. It provides 1/5th of the calories consumed worldwide by human species. Its cultivation is well-suited to countries and regions with low labor costs and high rainfall, as it is labor-intensive to cultivate & require ample water.

Rice is the second biggest foreign exchange earning commodity. Price of rice mainly depend on weather condition in growing area, Government policies, availability of substitute products, world demand and supply conditions, consumption, seasonal cycles and rice carryover stocks.

Indian plays a major role in white rice production, accounting for 20% of all world rice production. Indian rice production reached 104.32 million tons in 2011-2012 crop year (July-June). In India rice is a Kharif Crop, usually sown with the beginning of the first rains in June or July and harvesting of the same starts in August or September month therefore fresh rice mainly enter the Indian market October onwards.

Major Rice Grades Exported from India: Basmati Rice, Pusa Rice, Long Grain Rice (Parwmal), Short Grain Rice, Broken Rice, Sona Masuri etc.

Major Export destination of Indian rice:
- Basmati Rice: Saudi Arabia, Iran, Kuwait, U.K, U.A.E, European Union countries, Australia, Denmark, and Finland.
- Non Basmati Rice: Nigeria, Senegal, Indonesia, U.A.E, Ivory Cost & Bangladesh.


| | |
| --- | --- |
| | Basmati Rice in Hindi language means "Queen of Fragrance". Basmati rice is known worldwide for its unique nutty flavor, fragrance, length (up to 9.1 mm of uncooked rice) & nutrition content. On cooking rice swells length wise up to two times compared to its uncooked length size. |
| | |
| --- | --- |
| | Any rice other than basmati rice is named as non-basmati rice. In the world it has been reported that there are 10000 varieties of rice & out of which the maximum number are in India. In India Non Basmati Rice is found in different shapes and sizes. Some are long and slender; some thick and short, some round. They differ from Basmati rice as they do not have aroma nor post cooking elongation. |